In 1590, the Earl Marshall title was given by the Queen,
it was a recognition that she held him in esteem.
But he had to resign from the title after two years,
as his time in Ireland, with family, was in arrears.
In '92, he had to bear the death of a son;
as tragic a time as could ever happen.
He then had no official son and heir
to inherit his estate within Munster.
By '94, rebellion raged in Ireland once more.
They were fighting in the Nine Years War.
Thomas was not actively involved,
but when called on, he evolved.
He had given up fighting by age 68,
but did not know a kidnap was his fate.
This was in April sixteen-hundred,
and many agencies were then grouped.
He had gone with a trio to the rebels to parley,
but a Jesuit priest there set out to betray.
An argument caused the kidnap of Ormond,
but not the others, Carew and Thomond.
They both managed to get away
and raised the alarm that same day.
Thomas thought his worst fears would be fulfilled,
that in a massive hunt he would be killed.
During his time in captivity, Tom became ill.
The state he was in was more than a chill.
By June 13, he had been let go,
and wrote to the Queen so she would know.
His heart faithful and his service true,
until the last hour of his life for you.
Written in 1600, at Kilkenny, June 13,
were the most deep-felt words seen.
Throughout the kidnap his wife was very worried,
and her health had badly deteriorated.
She died in November 1600,
and seven months later, Thomas remarried.
It was a swift marital turnaround,
but an heir was needed for Ormond.
For the new wife, widow Helen Barry,
the birth of a child was not to be.
In 1602, he was struck by blindness.
He said it was caused by bad seasickness.
It was said this stopped a visit by the Queen
to Carrick-on-Suir, which she had not seen.
The two of them could no longer meet,
but it did not stop her tapping her feet.
The Queen ordered Irish tunes to be played,
when her 68th birthday and Christmas arrived.
In Spring 1603, she caught a chill.
"You must go to bed" said Robert Cecil.
He was anxious no successor was yet appointed;
and hopeful James I would be the anointed.
But she became increasingly worse
and it became difficult to converse.
At her death, she instructed – no autopsy.
What was it that she did not want them to see?
I suspect that she knew the misnomer – Virgin Queen –
during such an examination would be then seen.
The doctors would be aware of this fallacy,
if they found signs of gravidity and parity.
Thomas and Elizabeth had a very long history,
one that was practical and charged romantically.
He had been loyal, diplomatic and trusted;
also clever, constant, and candid.
He may have had an ambivalence of identity
between duty to England and his Irish ancestry,
but his relationship with the Queen
was always one of great esteem.
In March 1603 Queen Elizabeth had died,
but her "black husband" had somewhat revived.
Another 11 years there had been
before dying November 22, 1614.
When he died in his Castle at Carrick-on-Suir,
I wonder if he was thinking of her?
On his deathbed he wore the ribbon with the KG,
no doubt considering his life nostalgically.
First her kinsman, then her friend,
with a good alliance at the end.
She – "looks to find you old Lucas,"
and he was a man in his own class.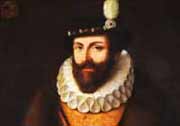 "A man of very great parts, admirable judgement, great experience and a prodigious memory . . . very comely and graceful, of a black complexion which gave occasion to the Queen (in her way expressing kindness to such as she favoured) to call him her "black husband."
Thomas Carte