While visiting North Wales I heard
a male choir in Llanberis
singing in a local hotel lounge.
Their symphonic sound
uplifted the space around
and lingered after the event
in melodic echoes.
Nearby I found Dolbadarn
overlooking Llyn Padarn,
strategically sited above the mountain pass
in a setting of rocky tranquility
of slate mountains and twin lakes.
The grassy hill that led to the castle ruins
was trespassed by indifferent sheep,
heads down, quietly cropping abundant grass.
When I arrived at the summit
I could tell that there was history here.
Had a Bronze Age settlement held the hill?
Surely an Iron Age hill fort had claimed the site?
If there were Druids here, they would have been massacred
by Suetonius the Roman in 60 A.D.
It was his mission to obliterate sacred sites on Anglesey,
and slaughter Druid leaders in a cultural destruction.
Dolbadarn was built by a Prince of Gwynedd,
also called Lord of Snowdonia.
Llywelyn ap Iorwerth or Fawr
was called — Great — and he had
the possibility of creating
an independent Wales.
But it slipped past his grasp.
He built and completed
the Castle of Dolbadarn
by the year 1230, on the site
of a previous fort
built for a Brythonic king.
A megalithic method of dry stone slabs.
No mortar used in its military architecture.
The three-storey tower tightly layered
with an internal spiral staircase
which reversed direction at the midway point.
A sad story within those stones
of a Celtic power struggle
when Llywelyn ap Gruffudd
kept his brother Owain Goch
imprisoned in the tower for 20 years.
He had little consolation in being
surrounded by the spectacular scenery.
What a wasted dispute by Snowdonian lords;
when 54 years after its completion,
the English captured and dismantled the castle.
In one ruined and bare rectangular area
I saw a small circle of seven flat stones,
bordered by tufted green turf.
They were not pictured on any photos I saw.
A disinterested attendant shrugged
at my questions about the flat stone circle
and two bemused tourists clutched their guidebook
as they ignored and avoided me.
There I was in a deserted enigmatic place
so I claimed the stone circle and stood in its centre,
eyes closed, slowly breathing the mountain air
with an awareness of my solitude there.
I left by way of a downward path,
beside a sliding stream,
passing through a vibrant treed area
of latticed and luminous greens
in a bright mosaic of branches and leaves.
I saw a fallen tree trunk shaped
like a recumbent docile dragon,
completely covered in moss and lichen;
dormant, but guarding the grove.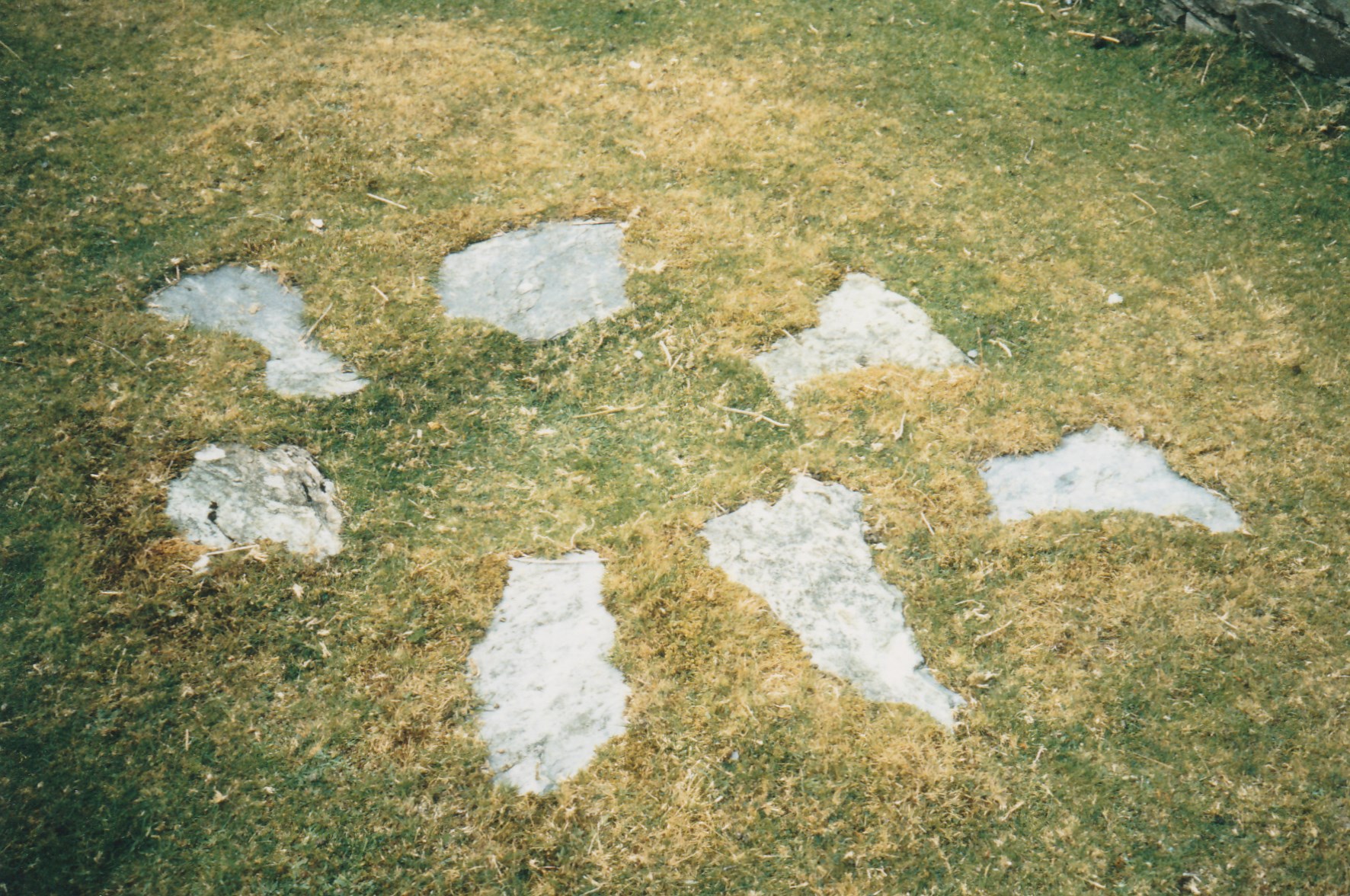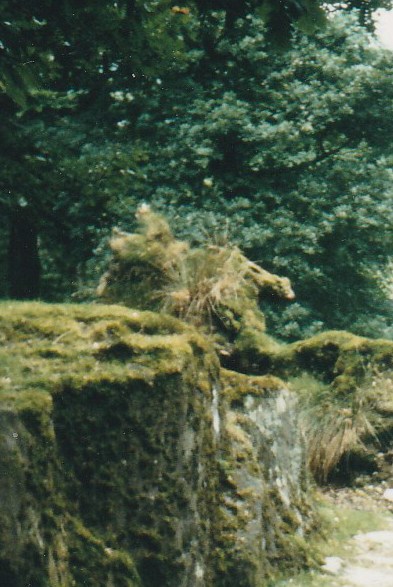 Click on the photo above for a bigger picture.